Artificial Disc Replacement Surgery
Have you…
– Been considering ADR and need insurance pre-approval?
– Been denied insurance coverage for ADR surgery you still want to have?
– Had ADR surgery and were refused insurance coverage and now have out-of-pocket costs?
– Been forced into spinal fusion because your insurance wouldn't cover ADR?
I may be able to help.
Artificial Disc Replacement (Arthroplasty): Why Do Some Insurers Still Refuse to Cover it?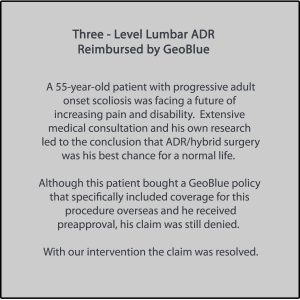 Despite extensive clinical data and other evidence of the general superiority of Artificial Disc Replacement (ADR) compared to spinal fusion in terms of patient outcomes, rates of resurgery, and cost, US-based insurance providers continue to refuse pre-approval and reimbursements for ADR. Many insurance plans reject ADR (either single level or multiple level) outright as an "experimental" or "investigational" procedure, although those terms are vaguely defined and ADR may not be listed by name under the policy exclusions. From the patient's standpoint, this resistance can be puzzling and extremely frustrating, especially given the fact that the actual cost of fusion can be many times that of ADR.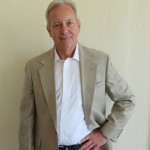 About David Suddendorf
– Extensive experience in policy enforcement, reimbursement, and insurance bad faith litigation
– Unique insight as former General Counsel of an insurance company
– Specific expertise in recovery of out-of-pocket costs for ADR, including international surgeries
– Sole attorney recommended for insurance recovery by leading ADR/spine surgeon Prof. Dr. Rudolf Bertagnoli
– For more information about my background and experience, please see ABOUT and INSURANCE pages.
What I Can Do to Help
– Before or after your surgery, I can objectively evaluate your case in terms of recovery likelihood
– Before or after your surgery, I can conduct a thorough review of your case, including insurance policy language, medical procedure codes, surgical reports, physician's notes, previous denials, etc.
– If you have already been denied coverage, I can act as your advocate in confronting coverage denials with your insurer, including exposing errors, inconsistencies, and obsolete information in denial and policy language, and if necessary, initiate bad faith litigation
– For pre-operative patients, I can help obtain insurance pre-approval for ADR
– For post-operative patients, I can help ensure the best chance for recovery of all out-of-pocket costs.
– Even if you were forced into spinal fusion due to lack of coverage for ADR, I can help you explore your options.
Find Out More About Artificial Disc Replacement
– Click on the button below or simply call us at (415) 806-6599 for a confidential, complimentary 30-minute consultation.